one minute review
The Metaspeed Edge+ joins the Metaspeed Sky Plus as the two new running shoes in the Asics collection, built for speed and running.
Like the Sky+, the Edge+ promises improvements over its predecessor, including adding more FF Blast Turbo cushioning, tweaking the upper to offer a more secure hold, and Asics repositioned the carbon plate to make it a better shoe for run fast.
More foam means you've got plenty of heel in this shoe and that midsole creates a ride that feels pleasantly stable and particularly effective on shorter, sharper runs compared to our time on the Sky+.
The mesh upper keeps the shoe's overall weight down and feels like a fit-to-size shoe. Asics says they've reinforced the sole's heel to improve the Edge+'s durability and lifespan, but it still feels like one to save for when you want to go faster.
Like the Sky+, the Edge+ is one of the more expensive running shoes you can strap on, but if you're looking for something to work through 5k to half a marathon and potentially hold up to a marathon, this is one of the best shoes to pick up.
The Asics Metaspeed Edge+ launched in June 2022 and is priced at £225/$250/$330 from Asics (opens in new tab).
The Edge+ looks a lot like the Sky+ with that pretty similar green colorway, but there are some subtle and important differences between the two that Asics claims will better serve what it refers to as 'cadence' runners. Those are the runners Asics says, based on their studies and research, increase the number of steps they take per minute when they start to run faster.
First of all, this is a super light shoe and our UK size 8 only weighed 199g. This is in part due to a very fine jacquard mesh upper that Asics says is made from at least 20% recycled polyester. Asics called this the superior Motion Wrap and it's designed to give you a more secure footing and provide a breathable environment for your feet.
We found it to be true to size in our testing, although we sometimes felt a little bit of rubbing in the little toe on the left side of the shoe, which seemed to go away for longer in our testing time. Overall, this upper offers a good amount of space in the toecap, along with a good grip in the midfoot and heel.
That overall weight is further reduced with a thin tongue that will stay secure on the top of your foot after tying the accompanying thin laces. These are different laces from the ones used on the latest Metaspeed shoes, but still make sure you get a snug, strong fit.
There's 16% more Asics' nylon-based FF Blast Turbo midsole foam compared to the Edge, with a curved sole design and carbon plate that sits lower on the shoe compared to the one featured on the Sky+. If you believe in the concept of cadence and stride runners, this design difference should help stabilize and push the foot forward and better support this cadence-influenced running style.
Asics has kept the same 8mm heel-to-toe drop as the first Edge compared to the 5mm drop you get on the Sky+ and it's 33mm in the heel and 25mm in the forefoot, so there will be some similarities in terms of how this shoe seems to run.
The sole uses the same AsicsGrip rubber that is built to give you strong grip on wet and dry roads and handle winding trails and routes with ease. Unlike the Sky+, the Asics seems to offer a little extra protection from that exposed foam in the heel, but it's by no means an overall change.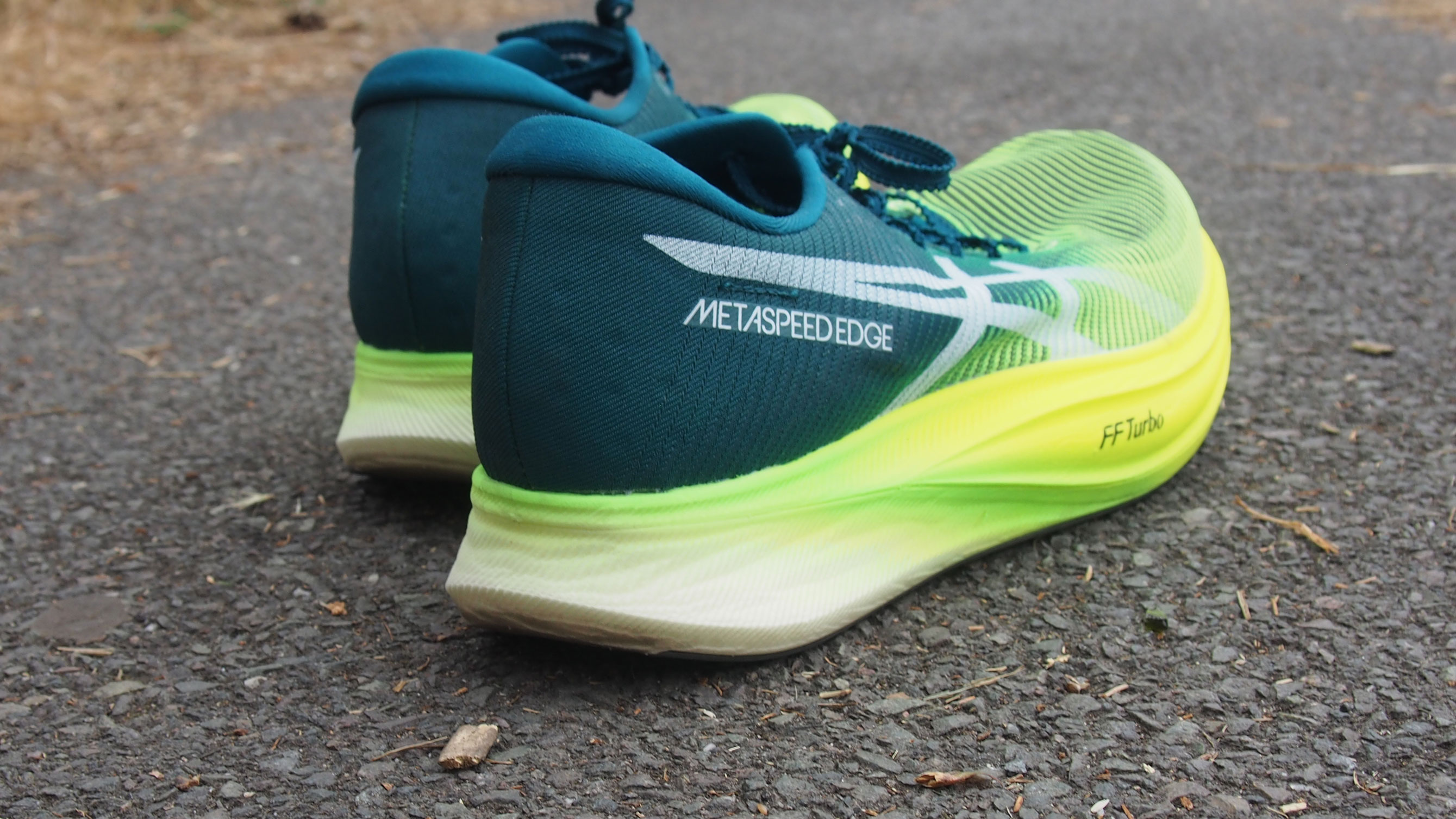 The Edge+ is made for racing and that's where you'll reap the benefits of the kind of shoe Asics built here. We ran it from 10k away and used it for faster marathon workouts and interval track sessions and the general feeling is that when you want to go fast this is where this shoe excels. If you expect this to be a shoe you can walk in, it's just not what it was designed for.
In our test run of 10k on a flat, fast course, albeit in hot conditions, the Edge+ felt right at home on this shorter running distance. We ran the same distance on the Sky+ and, like the Sky+, it's a shoe that feels nice and stable to run. There's a good fit in the forefoot, and while you're not fully compressing the midsole foam, you get a good bounce on this ride and the legs feel like they're turning quickly. It was a similar story in our track tests, where the lungs might have burst, but our legs felt great as we tackled those fast laps on the track.
When you turn to it to record longer distances, the Edge+ feels like a shoe you need to do some good runs in to really get a good feel for the FF Blast Turbo midsole foam that feels a touch firmer than the Sky+. It's a shoe that can work when you need to increase mileage and maintain that speed over longer distances. Now you also have that added protection thanks to that increase in midsole foam. It also feels more comfortable when you need to control that speed compared to the Sky+, as the Sky+ can be a tough shoe to wear if you need to slow things down in a marathon.
The traction you get from the sole is great and it's well-suited to gripping long stretches of road and asphalt. We used it predominantly in hot, dry conditions, and it was fine, but like the Sky+ it will also work in wet race conditions. Asics added a little more rubber to the heel of the shoe to combat wear and tear and it certainly didn't wear out in the same way the Sky+ did to the heel. There's still a fair amount of exposed foam in there, so it still feels like one you won't want to use in every training session.
Whether you buy the whole running versus cadence thing, our experience suggests the Edge+ feels more at home in distances from 5k to half marathon, while the Sky+ feels like the marathon shoe of the two. It feels like the Edge+ can handle that marathon distance, but that underfoot feeling tells us it's one to run below that distance. It's an expensive shoe, but if you want a serious running shoe, this is one of the best at the moment.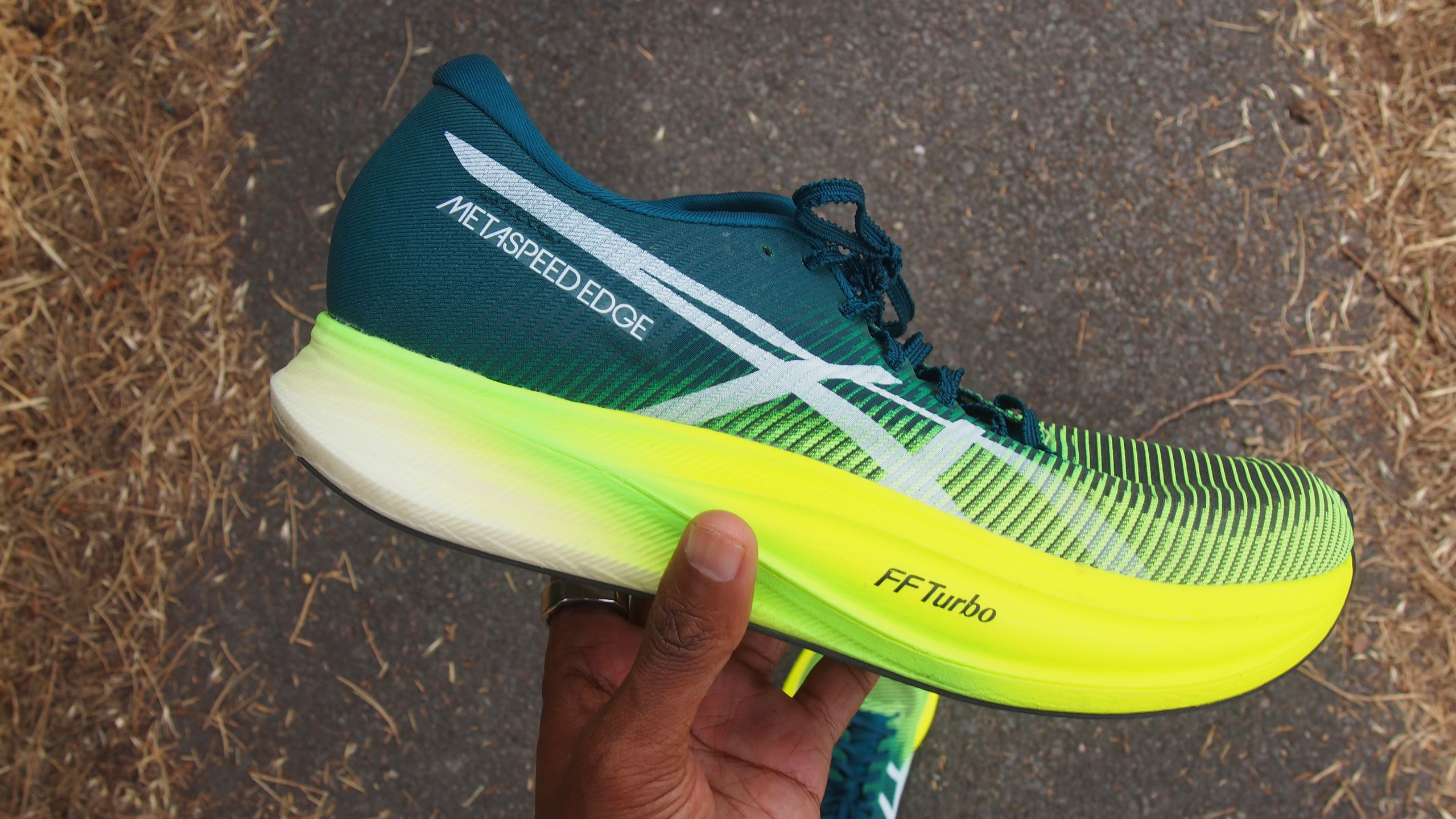 Buy if…
Don't buy if…
Also consider: